The OhMiBod Club Vibe 2.0H is a discreet wireless vibe that can be controlled by sound or remote
Includes sexy black thong, battery charger, instructions & more
Women are probably the only ones that can get away with achieving an orgasm in a public place without anyone knowing. The creative minds at Ohmibod has created the ideal vibrator that can be hidden discreetly in your panties and can be wireless controlled by your brute of a man who can only fantasize how excited you are by the toy or it can react to music. Genius I say! The Club Vibe 2.0 has been designed with one thing in mind, and that is to get a women off in any setting with the flick of a switch, discreetly. Sex in the club can finally be obtained, just slip this on and have your partner secrelty turn it on and achieve exhilarating pleasure and orgasm without ever being noticed!
The OhMiBod Club Vibe 2.OH is a revolutionary wireless and USB rechargeable - remote control vibrator. This sophisticated, lightweight and slim line vibe begs to be worn out on the town. Tucked away neatly in its custom black lace thong, it will accompany you comfortably to any destination whether it's a night club or a dinner party. Its 5 intensity levels allow you to use the vibrator in a loud atmosphere or in a special quiet place. As with the original Club Vibe, the Club Vibe 2.OH has a velvety finish and vibrates and pulses to club music, concerts or to your lover's voice.
Also the Club Vibe 2.OH, the mic is built into the wireless remote control and can be kept in a clutch, in your hand or in someone else's - adding to the extra excitement of not knowing what's coming next. :) The remote control has a range of 15-20 feet and 5 intensity levels for Club (ambient) mode. The remote allows you to switch the vibe from ambient to manual mode and cycle through 5 amazing patterns with a simple push of a button. Club Vibe 2.OH is one of those vibrators that you'll want to bring with you everywhere!
Recommended for couples who are into kinky foreplay!
Looking for other the Best Vibrating Panties?
Check out the Top 4 options
1. Menagerie Vibrating Panty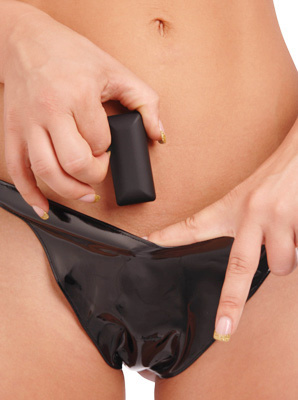 Lose control...remotely. There you are, this public space, all these people around. You look across the table at the one person in the room that controls your ecstasy. They give you that smile, the one that says: you belong to me. Then intense vibration begins... The Menagerie Vibrating Panties are equipped with a removable vibro-box that is inserted inside the panty lining and operates via the far-reaching single mode controller. Discreetly powerful and ready to take you over.
2. Black rose secret garden vibrating panties
Experience the softer side of sexy submission. The luxurious Black Rose collection, from Doc Johnson, invites couples to explore bondage play with sophisticated style. Each piece is fully adjustable and adorned with beautiful detail. All restraints include helpful booklets with instructions for use.
3. 10-Function Remote Control Fantasy Panty
Finally, a remote control you can both enjoy! These panties have a secret: tucked inside this sexy g-string is a powerful waterproof bullet vibrator, operated by a remote control from up to 25 feet away. A small, textured rubber plug inserts and quietly holds the bullet in place, and with 10 different pulse patterns to choose from on the remote, the possibilities are endless. Wear these out on dates, around the house, to parties, or anywhere you need an extra little buzz. Turn your lover on with the touch of a button!
4. 10 Function Vibrating Butterfly Harness
The 10 Function Vibrating Butterfly Harness will leave you panting in ecstasy! Just fit the adjustable straps around your waist and thighs and let the Butterfly do the work. A series of raised pleasure nubs on the butterfly body tease and stimulate while the flexible jelly antennae dance over your clit. 10 exciting pleasure modes deliver incredible sensations, from consistent vibration, to rhythmic pulses, to racing escalation, all at your fingertips with the convenient remote control.